Tariffs for promotion & sponsoring Fiets en Wandelbeurs
You can reach genuine cyclists and walkers in the Netherlands and Flanders via our online and offline channels. Scroll down to see the options. Please also see our promotion packages for exhibitors.
Online advertising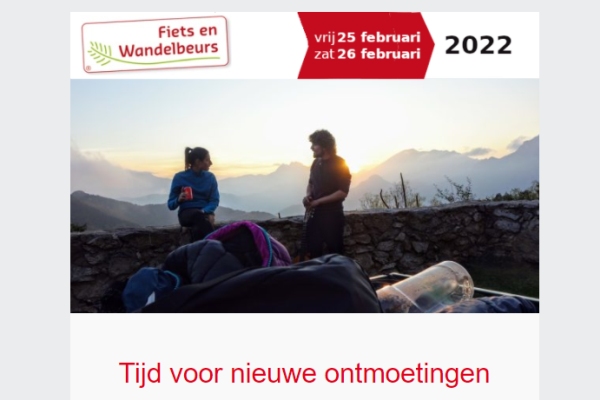 Consumer newsletter
Want to reach thousands of cyclists and walkers who are eager to hear what's new from you? Place an item in our newsletter or get sole attention with a dedicated mailing!

- Newsletter Netherlands > 16,500 addresses
sub item € 660
dedicated mailing € 1.260

- Newsletter Flanders > 13,000 addresses
sub item € 550
dedicated mailing € 995
---

Visitors sites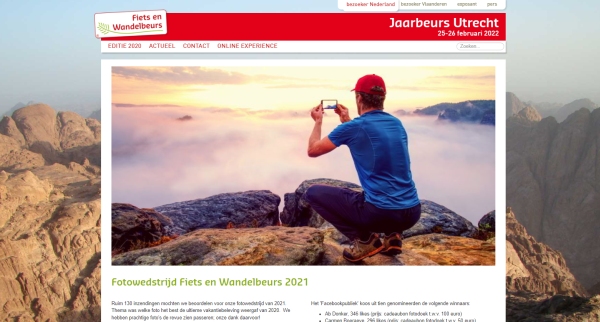 Fancy taking a prominent place on the platform where cyclists and walkers will be preparing their upcoming visit to our Fair? Put your product or service in the field of view with an article on our Fair websites!

Tariff for 2 months:

- Fietsenwandelbeurs.be
Jan-Feb: > 40,000 visitors

feature article on homepage with separate page € 880

- Fietsenwandelbeurs.nl
Jan-Feb: > 70,000 visitors

feature article on homepage with separate page € 1,190
---
Social media
Increase your online reach and visibility in the run-up to the Fairs via our extensive social media-network!

Netherlands
Facebook @fietsenwandelbeurs: > 5,000 followers
Instagram fietsenwandelbeursnederland: > 1,280 followers

Flanders
Facebook @fietsenwandelbeursvlaanderen: > 3,800 followers
Instagram fietsenwandelbeursvlaanderen: > 400 followers

Combined Netherlands and Belgium
Twitter @fenwbeurs: > 3,400 followers

All messaging will be made up in the Fiets en Wandelbeurs house style, including your logo. 2 announcements per channel (= 6 messages in total) about your product/service.

Package price Netherlands: € 475
Package price Flanders: € 360

---
Offline advertising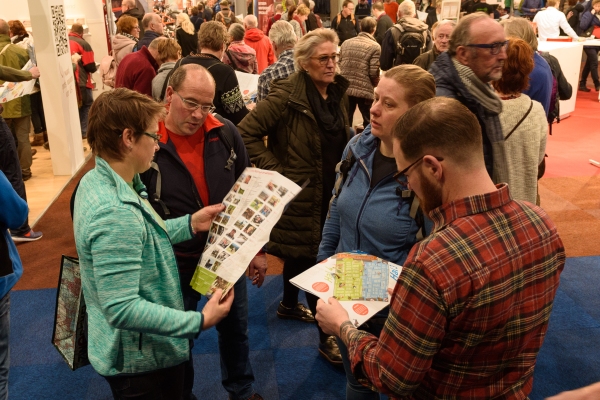 Floorplan of the Fair
Do you want to make it easier for visitors to find you in Ghent en Utrecht? Then advertise using your logo with stand number in the column next to the floorplan.
All visitors to Ghent and Utrecht are handed a free floorplan on entrance. Dimension of logo 60x20 mm.

Price per Fair: 495 euro
E! magazine
A special publication that presents the latest e-bike destinations and models. Free distribution as printed magazine at the entrance to the combined events the Fiets en Wandelbeurs and E-bike Xperience in Utrecht, as well as the Fiets en Wandelbeurs and E-bike Challenge in Ghent. Print run: 15,000. Also available as digital responsive magazine with distribution to 50,000 selected mail addresses.
1/4 page advert € 348
1/2 page advert € 650
1/1 page advert € 1,199
spread € 2,125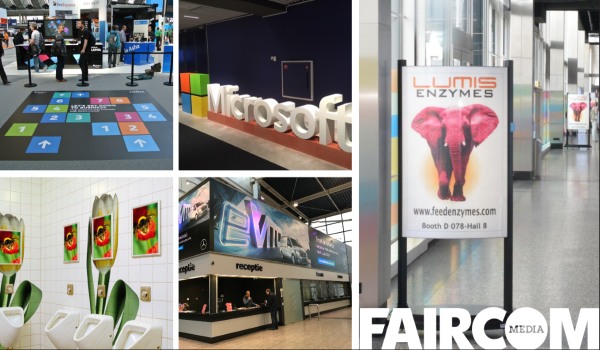 Promotion at the Jaarbeurs
Use the opportunity for extra brand exposure during the Fiets en Wandelbeurs. Faircom Media coordinates all exposure opportunities outdoor and in public places. Making your brand as noticeable as possible and driving more traffic to your stand.

"Make an impression with maximum exposure!"
E |
sales@faircom.nl
T | +31 20 462 0880
W |
Faircom.nl/en/
Download
the media brochure
.
---
Sponsoring
(partial) Sponsor of the Fiets en Wandelbeurs

Your brand visible on our visitors websites, entrance tickets, posters at the Fair, promo point, video-screens, in our newsletters and many other items. We offer various sponsoring options.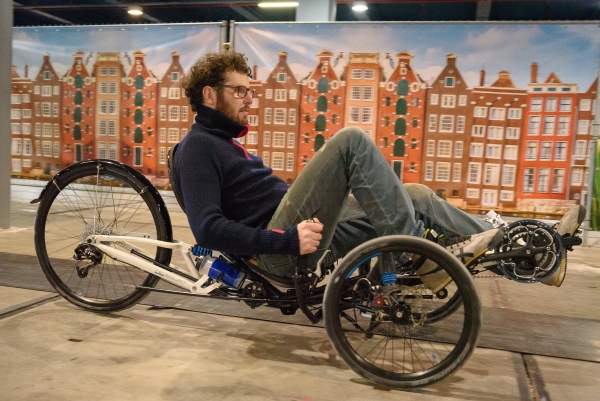 Cycle track
Just imagine it: thousands of visitors cycling through an indoor landscape representative of your destinations. A woodland, sea-shell or stone pathway flanked by visuals on which your brand will be visible midst miniatures of famous views and places.

It can all be done on the kilometres long cycle track that weaves its way right through the Fiets en Wandelbeurs halls. Every year the visitors in Ghent and Utrecht make tens of thousands test rides on the latest models of bicycles and e-bikes. A real crowd puller!

Sponsors of (a part of) the track get the opportunity to push their brand to the fore and link their name to it. This can be done via banners, flags, floor stickers and the decor as well as the supplying of test material and surfaces.
Competitions or discount offer
An original way to put your product or service in the picture. Donate one or more items and award them as prizes in a quiz or promotion related to them. Or you can choose to make gift vouchers available. We take care of publicizing your actions and informing consumers via our websites, social media and/or newsletters.

Set up price: € 50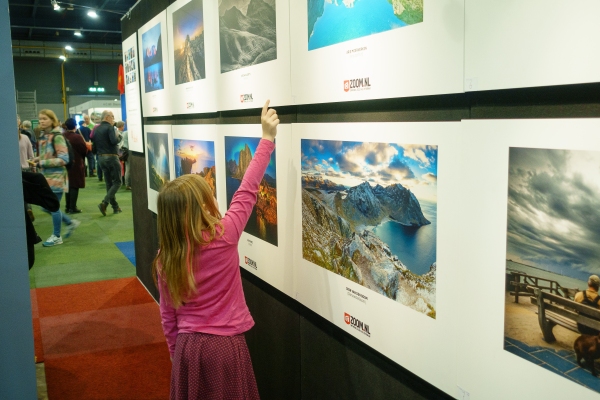 Photo competition
Have you got a product you would like greater attention for?
Then consider sponsoring our photo competition in Flanders or the Netherlands.
If you donate an article as a prize, then you get:
your company name, logo and a picture of the article that can be won on the visitors website
your company name in our social media and in the newsletter
your announcements on large posters spread around the exhibition floor
Room hire and sponsoring
As hirer or sponsor of a presentation room you will have the opportunity to create the kind of decor and atmosphere in the room that matches your product/service. This can be done with banners, flags, choice of speakers, video-presentations between talks, and so on.

Rooms Utrecht
| | chairs | tariff 11-15 hrs | other hrs |
| --- | --- | --- | --- |
| Room 1 | 80 | € 350 | € 290 |
| Room 2 | 80 | € 350 | € 290 |
| Room 3 | 80 | € 350 | € 290 |
| Room 4 | 80 | € 350 | € 290 |
| Juliana Room 1 | 250 | on request | on request |
| Juliana Room 2 | 150 | on request | on request |
| Juliana Foyer | 150 | on request | on request |

Rooms Ghent
| | chairs | tariff 11-15 hrs | other hrs |
| --- | --- | --- | --- |
| Flex 1 | 100 | € 360 | € 299 |
| Flex 2 | 100 | € 360 | € 299 |
| Flex Lounge | 40 | on request | on request |
Interested in sponsoring? Please contact us to discuss the options.
E-mail: Telephone number: +31 (0)20 600 2579