Construction and dismantling in the Jaarbeurs
Construction
Building your own stand
You can start with construction and fitting out your stand on Wednesday from 12:00 hrs to 23:00 hrs
On Thursday from 08:00 hrs to 23:00 hrs.
Standard stand construction
You can start with fitting out your stand on Thursday before the fair from 12:00 hrs.
General
On Friday you are welcome from 8:00 to 9:30 to finish building your stand.
Soot filters are mandatory for diesel engined vehicles.
Smoking is strictly prohibited in the halls.
On Friday and Saturday you will have access to your stand from 08:00.
Access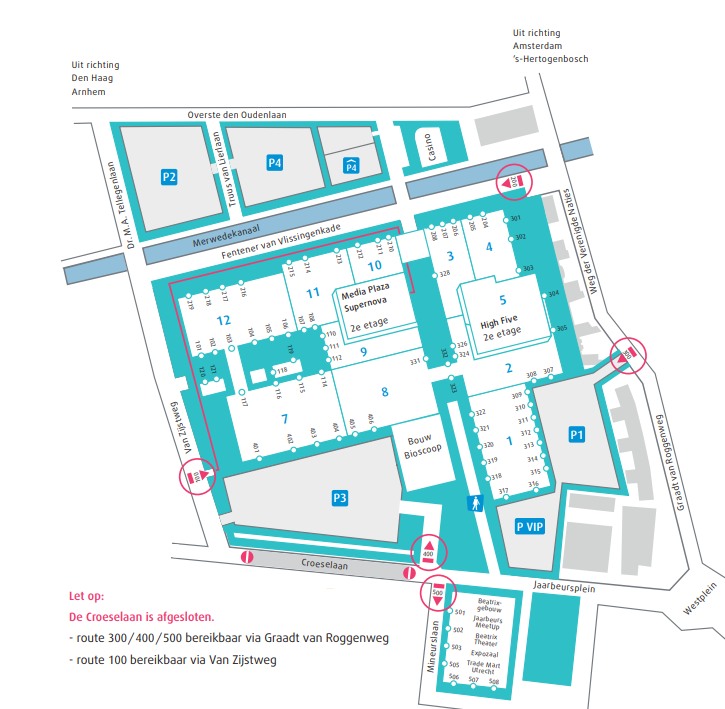 For Hall 1 and Hall 2 you can report on P1 (access route 300). You will be registered here and draw a parking ticket.
In all cases, a limited amount of time is available for loading and unloading. If you exceed the allotted time, you have to pay for the parking ticket (P1).
cars and vans max. 60 min
trailers max. 90 min
trucks max. 120 min.
See the floorplan for the route, also useful to print out.
Parking
There should be no trucks or disconnected trailers left on the parking lot. These will be removed and the cost will be passed on them.
Parking of trucks at exhibition days, at the following locations:
the Vlampijpstraat Tractieweg and Gietijzerstraat at business park Cartesiusweg
business park Lage Weide
business park Kanaleneiland-Zuid
Parking of passenger cars
Parking tickets you order at the Jaarbeurs webshop. After registration to the Fair, you will get a link and login for this. The tickets are valid on P1, P3 and P4. They offer two options:
a subscription to drive on and off the parking several times a day
a single use parking ticket
Hours
Only if necessary you can enter the Halls by car until Wednesday 18:00 hrs. Then the doors close. After this time delivery of goods is only possible through one entrance.
On Friday and Saturday, the entrance of one Hall is open from 8:00 to 10:00 hrs.
Access for stand builders
Stand building tickets are necessary for employees and stand builders that are present only during construction and / or dismantling.
Valid:
Wednesday and Thursday before the fair, the whole day.
Saturday after the fair from 5 pm.
You can download stand building tickets from 'My events'. After selecting your registration you will find option "construction passes" at the bottom of the menu on the left. There you can enter the desired amount of stand building tickets and download them.
Dismantling
Taking down the stand starts on Saturday at 17:00 hrs after the closing of the Fair. Please do not start the clearing of the stand any earlier. The electricity will be cut off at 17:00 hrs sharp and the Hall doors will be opened after the removal of the carpet at ca. 17:30.
Access vehicles
Light traffic for dismantling in Hall 1 and Hall 2 is welcome at P1 (entry route 300) immediately after the fair closes. Freight traffic may only arrive at P1 1 hour after the fair is closed. A security deposit is not required. Vehicles arriving too early are not allowed to enter the premises. Public roads must always remain clear.
Stand holders with standard stand construction
The stand must be cleared by 21:00 hrs on Saturday.
Stand holders constructing their own stand
The hall must be ready for handing over empty on Sunday morning at 02:00 hrs (night). If you have not started by 21:00 hrs, our own stand builder will do it and you will be charged the costs.
Waste
Please take all of your waste material with you and do not leave this behind in the aisles. We will charge you for any waste materials left behind.
Contact stand building:
Ada Sauvé
email:
Contact Jaarbeurs
telephone: +31 30 2952999
email:
Work safely
Access policy
You will not be admitted to the Jaarbeurs without a completed participants card either. While you are present you may be asked at any time to show your card. The stand number, company or organisation, name and signature of the bearer must all be filled in.
Protective footwear
One of the new mandatory safety requirements is the wearing of approved protective footwear during the construction of stands and from one hour after the end of the Fair.