An exceptional edition
After three years of absence, the E-bike Xperience had a special edition at the Jaarbeurs in Utrecht. On 24, 25 & 26 February, no less than 26,594 people visited the combination of the Xperience with the Fiets en Wandelbeurs. With that, both events are completely back on stage.

In the run-up to both fairs, it became clear that there was a lot of interest among the target group to experience a new edition. This resulted in packed aisles, exhibitors having to answer a barrage of questions and countless potential e-bike buyers trying out new or fairly recent models of e-bikes and speed pedelecs. Especially on Friday and Saturday it was very busy on the exhibition floor.
Figures RAI Union
At the 2023 edition of Xperience, Huub Lamers, chairman of the Bicycle arm of the RAI Union, announced sales figures, with a dominant role for electric bicycles. In 2022 no less than 57% of newly purchased bicycles were e-bikes. The e-bikes also accounted for 80% of the sales value of newly purchased bicycles.
The Bicycle Awards 2023 were also presented in the E-bike Theatre. The Giant Stormguard E+2 won the title E-bike of the Year (photo), the Urban Arrow Family Performance Plus was declared Cargo Bike of the Year. The KOGA Kinsel Pro went home with the award for the Race bike of the Year and the Jongerius TravL Pinion Beltdrive was judged Bicycle of the Year.

Three Bicycle Innovation Awards were also presented. These went to the MIK SIDE attachment of panier bags to the baggage carrier of Basil B.V, the Enduo Cargo drivetrain for (cargo) bikes with electric support of New Motion Labs and the Roetz Life modular circular E-bike by Roetz Bikes. The winning models were displayed on podia alongside or close by the E-bike Theatre.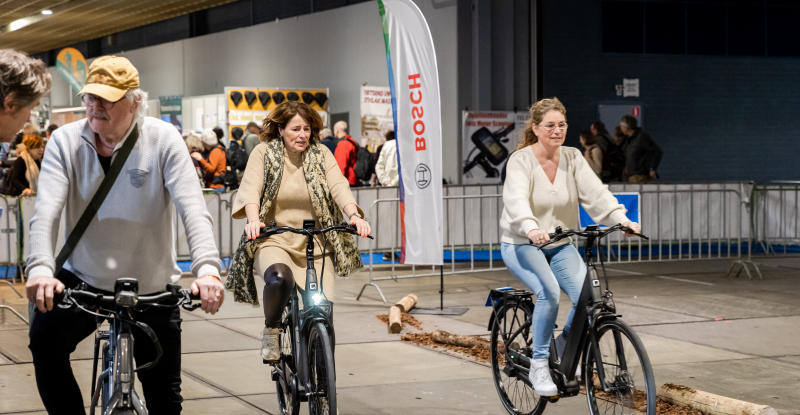 Test rides and Bosch ABS
During the weekend of the Fair many thousands of test rides were made on the Bosch E-bike Track that weaved through three halls and the Bosch Speed pedelec track. The visitors had a wide choice of rides on new or recent models of about 40 brands. A separate part was set up for testing the Bosch eBike ABS-system. Not only the public, but dealers and business relations of Bosch also made grateful use of it.
Photo impression
Take a look at the photo's 2023 (click on a picture to open presentation).