Transporting goods to Jaarbeurs
Delivery of parcels
Small packages (up to 23 kilo), can be sent by post or courier to:
Jaarbeurs Exhibition Halls
Canon Post & Repro (situated in the offices of Hall 7)
Fiets en Wandelbeurs
Attention: mention exhibitors name, contact person and telephone number
Hall and booth number exhibitor
Van Zijstweg 21, route 100
3521 CA Utrecht
The Netherlands
Jaarbeurs delivers the packages at your stand on the last day of the build-up period. At late arrival, during the opening days.
It is also possible to pick up your goods at Canon Post & Repro from Monday till Friday from 08:30 till 17:00 pm (situated in the offices of Hall 7).
T: 0031 (0)30 295 5242
E-mail:
Costs
The cost for storage and delivery of the packages are € 10.00 (including VAT) for one package.
If you have more than one package you'll pay € 5.00 (including VAT) for every extra package.
By delivery of the package(s) you'll sign to agree the deliverance. If you don't agree with the deliverance, we will return the package back to sender, postage paid.
More than 23 kilo
Pallets or packages with more than 23 kilograms, have to be delivered at Schenker Logistics.
You'll have to contact upfront:
Schenker Logistics Nederland B.V. .
T +31 (0)30 410 04 50
E-mail:
The opening hours of Schenker Logistics are from Monday till Friday from 08:00 till 17:00 hours. During building days they are also open on weekends.
Besides these services Schenker Logistics Nederland B.V. is also your partner for:
transport to and from the exhibition grounds
unloading, placing an loading your fair materials
storage of empty packaging materials
other logistic services
Important notes:
We advise you at all times to send the packages/goods well before the construction of the event starts.
Both Jaarbeurs as Schenker Logistics will not accept shipments that are sent cash on delivery or that must be paid for immediately.
Jaarbeurs and Schenker Logistics are not liable for lost goods.
Delivering stand materials
For Hall 1 and Hall 2 you can report on P1 (access route 300). You will be registered here and draw a parking ticket.
In all cases, a limited amount of time is available for loading and unloading. If you exceed the allotted time, you have to pay for the parking ticket (P1).
cars and vans max. 60 min
trailers max. 90 min
trucks max. 120 min.
See the floorplan for the route, also useful to print out. Additional information you'll find at the page construction and dismantling.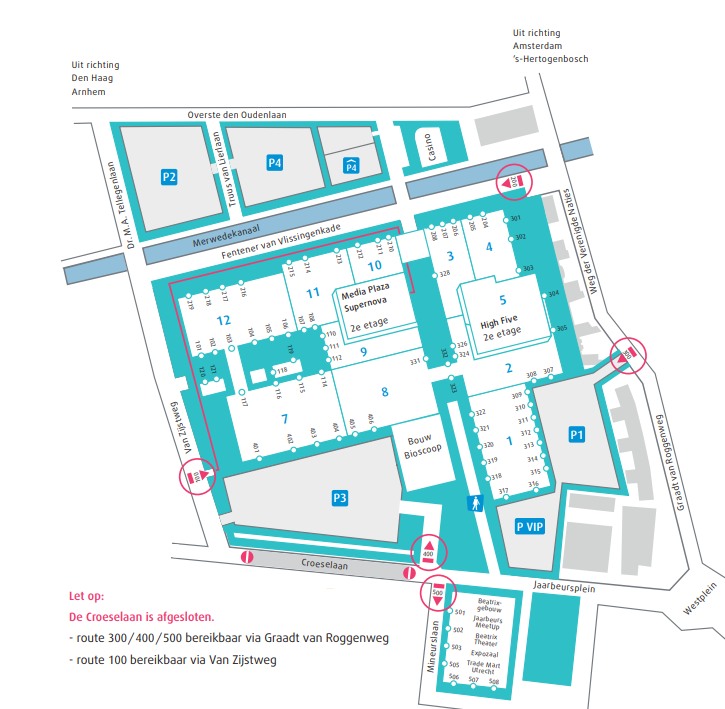 Parking
Do you want to park longer than the allowed time, you need to pay your ticket.
NOTE: There should be no trucks or disconnected trailers left on the parking lot. These will be removed and the cost will be passed on them.
Parking of trucks at exhibition days, at the following locations:
the Vlampijpstraat Tractieweg and Gietijzerstraat at business park Cartesiusweg
business park Lage Weide
business park Kanaleneiland-Zuid
Parking of passenger cars
Parking tickets you order at Jaarbeurs Webshop. You will get a link and login after registration. The tickets are valid on P1, P3 and P4. There are two options:
a subscription to drive on and off the parking several times a day
a single use parking ticket
Hours
Only if necessary you can enter the halls by car until Wednesday 18:00 hrs. Then the doors close. After this time delivery of goods is only possible through one entrance.
On Friday and Saturday, the entrance of one hall is open from 8:00 to 10:00 hrs.
Dismantling
Exhibitors
Are you an exhibitor, manning your own stand or planning to use your car or van for transport once you've taken down your stand? Then you should park up on the Jaarbeurs terrain in the morning and buy an exit ticket at the machine. On display of your exhibitors' badge you will gain access to the loading and unloading area. Use your exit ticket to drive out of the parking place.
Stand builders, HGV trucks and suppliers
Stand builders, haulage companies, suppliers and heavy goods vehicles must first report to Europalaan 32. This will be possible from 15:00 hrs. The parking area is right next to the Jaarbeurs itself, simply follow the signs or use the SatNav address (postal code): Europalaan 32, 3526 KS Utrecht.
As soon as the large transport doors are open (1 hour after the end of the Fair) the freight vehicles will be fed in gradually to the halls. Parking on the public highway, or waiting on them until allowed into the parking zone is prohibited. The public highway must be kept clear at all times.
Address
Jaarbeursplein
3521 AL Utrecht
the Netherlands
telephone: +31 (0)30 295 59 11
Environmental zone
Jaarbeurs is located in the center of Utrecht where there is an environmental zone for older cars and trucks on diesel. You might encounter problems to get access to the complex. Want to know more? Send an e-mail to or make a written request.